Binology introduces stylish and smart waste management solution for indoor and outdoor use. Our aim was to increase the advertising abilities of our Smart City Bin 120 unit, what translates us to the integration of the additional both sides advertising surface. Furthermore, the new hardened glass protected poster sites can be equipped with backlight function and attractive glowing effect! 
The new optional features synergize with a range of other advantages of Binology smart rubbish bin, such as 1:8 trash compaction, smart fill-level measurement, environmental sensor system, as well as recycle separation station possible extension. Maximize your benefits from street format advertising and indoor space lighted posters with unique Smart City Bin advertising features. The solution each smart city deserves!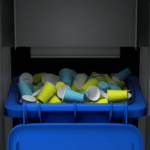 Wearproof interior press allows 1:8 trash compaction. It enables storage of up to 960L of waste in a standard interior 120L wheelie bin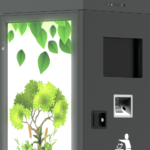 Backlight advertising with stylish glowing effect in combination with practical eco dust bin, opens up new marketing scope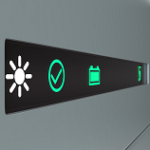 Binology developed a smart fill-level measurement system with precise detection of fullness, also type of collected waste
The container waste receiver shutter is tightly closed to block unpleasant odors and wildlife from reaching collected waste. 
SMART CITY BIN 120 LIGHTBOX
Smart garbage compactor with backlight advertising sites
Lightbox model for Smart City Bin is an exclusive solution for modern city streets, crowded places and facilities. Our new smart rubbish bin model is an effective combination of the practical use, high sanitary standards, smart recycling and city format advertising opportunities! In fact, Smart City Bin Lightbox has wide implementation area due to the combination of the features:
– Practical and stylish
The combination of viable waste bin ergonomics, high sanitary standards, Clean Hands feature and unpleasant odors conservation is the key aspect to fulfill the smart city needs. No more chaotic dumps around the trash cans, no need in sanitary unsecure interactions or free access to the collected waste. Smart City Bin unites modern society needs with advanced advertising opportunities for city and business.
– Safety features and high standards
We care about the safety in the first row, therefore Smart City Bin is supplied with hands detection sensor, which immediately stops the press, also smoke sensor to prevent fire accidents, which activates smart firefighting algorithm and sending alarm notifications and current status reports. Nevertheless, Binology smart bin designed vandal proof and protected from extreme weather conditions and external input.
– Advertising and easy access
To make our solution handy for marketing activity, Binology designed the Fast-Change device for posters. We've separated access to side advertising surfaces from the service or technical doors, so the posters can be switched fast and simple.
– In- & Outdoor installation and easy repositioning
The Lightbox model designed for indoor and outdoor use. The best performance can be achieved by using hybrid power supply, which opens access to glowing effect for posters and easy indoor repositioning. Don't be afraid to lock down your marketing and practical utility with mounted dust bin! Smart City Bin Lightbox is handy to shift and mount depending on your current needs and analyzed data. This model of smart rubbish bin is also available for waste recycling.
– Smart City Management connected
Binology Software and Mobile App allow real time fill-level and collected waste type monitoring. All IoT connected Smart City Bins also collect surrounding environmental data, which can be summoned to monitor situation and create reports. Efficient and handy for waste collection tasks and indoor waste management. Simple and efficient for smart waste management!
FEATURES:
580х1440 mm side poster frames, protected by shock resistant polycarbonate sheet.

software free 3-year subscription

foot pedal & easy push drop

vandal and weather resistant

two sides wheelie bin removal

LED fill-level & status indication

handy for disabled people

"Clean Hands" waste receiver

safety and firefight features
OPTIONS:
backlight glowing effect for the poster frames

any RAL color paint

film cover and branding 

protective coating

built-in ashtray

built-in pet waste bag dispenser

hybrid power supply

230V 50Hz power supply

extended warranty
TECHNICAL SPECIFICATIONS:
| | |
| --- | --- |
| | |
| | |
| | |
| | |
| | |
| | |
| | wheelie bin 120 L (DIN EN 840) |
| | up to 1:8 (depends on waste type) |
| | |
| | non-glowing – 50W solar panel / with glowing – AC or hybrid power |
| | |
| | |
| | |
| | Combined smart ultrasonic |
| Poster protection shield material: | shock resistant polycarbonate |
| | |
| | |
| | |
| | |
| Air temperature, pressure, humidity and quality sensors | |
| Smoke detector & Notification | |
| | |
| | |