Smart City Bin 120 is a street waste compacting bin with fill-level measurement system, operating on sustainable solar power. It is an automatic urban trash container for outdoor use, supplied with solar panel, built-in compactor, fill-level measurement system based on innovative algorithm
Equipped with air pressure, humidity, temperature and air quality sensors. Galvanized steel vandalproof housing, separate locks on each door,  hands safety sensor and fire detection system with smart firefight algorithm stand for high safety standards. Stylish NB-IoT automatic garbage bins, supplied with advanced controlling and energy safe algorithms and real time data transfer – the face of smart city street landscape!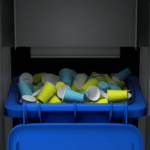 Simple & efficient build-in vertical press allows the 1:8 times compaction of waste. Store limits of each bin increased from 120L up to 960L
 Use of solar energy makes our street smart bin full automatic, energy safe algorithms for low insolation regions included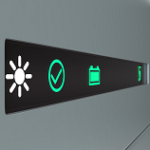 Get real-time data about collected waste volume with the unique fill-level measurement system operated by smart algorithm 
Foot pedal operated waste receiver prevents wildlife and people to get access to the collected waste, blocks most of unpleasant odors
Street IoT waste compacting can 
The Smart City Bin is an innovative solution for efficient urban waste treatment allowing radical change in the modern municipal solid waste management.
– Integrated compactor
is a simple and reliable device that can reduce waste volume by up to 8 times. A built-in algorithm automatically activates the pressing system according to the filling. The standard 120 L inner wheelie bin can hold up to 960 L pressed waste!
– Solar panel
allows the autonomous work without power supply connection. Thanks to smart energy save feature, even in low insolation and cold seasons, the charged battery can keep the bin online up to four weeks.
– Compressed waste
is hermetically and safely stored inside the standard 120L container. The closed bin design prevents the animals from having access to the waste and eliminates unpleasant odors.
– Vandal proof
bin housing construction made from galvanized steel, combined with a fixed surface mount. The safety features are complimented with integrated smoke detector and fire prevention algorithm, hands safe and door open sensors.
– Online monitoring
allows a real-time monitoring of indicators for all installed bins: location, fill-level and type of the collected waste, battery charge, surrounding environmental parameters and even more. Build optimal dynamic collection routes, mark collected bins and analyze stored data in our Smart City Management App.
FEATURES:
software free 3-year subscription
foot pedal or easy push drop
vandal and weather resistant
two sides wheelie bin removal
LED fill-level & status indication
handy for disabled people
"Clean Hands" waste receiver
safety and firefight features
OPTIONS:
any RAL color paint
film cover and branding
protective coating
built-in ashtray
built-in pet waste bag dispenser
hybrid power supply
230V 50Hz power supply
extended warranty
TECHNICAL SPECIFICATIONS:
| | |
| --- | --- |
| | |
| | |
| | |
| | |
| | |
| | |
| | wheelie bin 120 L (DIN EN 840) |
| | up to 1:8 (depends on waste type) |
| | |
| | |
| | |
| | |
| | |
| | Combined smart ultrasonic |
| | |
| Air temperature, pressure, humidity and quality sensors | |
| Smoke detector & Notification | |
| | |
| | |