SCSS 2 represents an innovative smart city solution for separate waste collection. It consists of two solar powered trash containers in a solid connection. One container is designed for general unsorted landfill waste collection and supplied with built-in press, which allows 8-times compaction and secure storage. The second dust bin has any compaction feature and aimed for the accumulation of recyclable materials. 
Both containers in Separation Station 2 are supplied with separate fill-level measurement systems for accurate data collection. Integrated IoT controlling module will keep you informed about each fraction filling status on Smart City Management dashboard.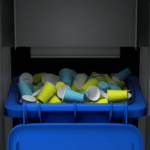 Build-in vertical press allows up to 8 times waste compaction. Used only for landfill trash in the first section of SCST 2
Designed for the manual separation just on the street. Rim mask shape and clear leads will help with sorting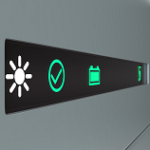 Each container in SCST 2 equipped with own sensor system enable fill-level tracking for each waste type
Different shapes of rim masks and apertures designed for efficient waste collection and separation. 
SMART CITY SEPARATION STATION 2
Modern day urban waste separate collection
Smart City Separation Station 2 is an innovative solution from Binology, developed for efficient urban waste management and manual waste separation, which meets the requirements of nowadays Zero Waste worldwide initiatives.
– Integrated compactor
is simple and reliable device that can reduce waste volume by up to 8 times. Practical experience has shown, that the compaction of several fractions of recyclable materials, such as PET bottles, paper, glass and organics is inefficient on the stage of collection, therefore our Separation Station 2 combines compacting container for landfill waste and non-compacting satellite container for valuable recyclable materials, which can be recycled or reused.
– Solar panel
allows the autonomous work without AC power supply. Solid construction of Separation Station allows collecting more energy from two united solar panels, feeding one battery, what is useful while poor solar irradiance seasons.
– Fill-level measurement system
integrated separately for each section of Separation Station 2. The closed container design prevents the animals from having access to the collected trash and eliminates unpleasant odors. Fill-level monitoring for each internal 120 L wheelie bin allows separate control of the current waste level for landfill waste and collected recyclable materials on the Smart City Management dashboard.
– Online monitoring
Smart City Management SaaS App allows a real-time monitoring of indicators for all installed containers: location, fill-level and type of the collected waste, battery charge and surrounding environmental parameters. Fill-level data for each container of Separation Station is separately collected indicated by color.
FEATURES:
software free 3-year subscription
foot pedal or easy push drop
custom rim masks for separation
vandal and weather resistant
two sides wheelie bin removal
LED fill-level & status indication
handy for disabled people
"Clean Hands" waste receiver
safety and firefight features
OPTIONS:
any RAL color paint
film cover and branding
side posters box, also backlight
protective coating
built-in ashtray
built-in pet waste bag dispenser
hybrid power supply
230V 50Hz power supply
extended warranty
TECHNICAL SPECIFICATIONS:
| | |
| --- | --- |
| | |
| | |
| | |
| | |
| | |
| | |
| | wheelie bin 120 L (DIN EN 840) |
| | up to 1:8 (depends on waste type) |
| | |
| | |
| | |
| | |
| | |
| | Combined smart ultrasonic |
| | |
| Air temperature, pressure, humidity and quality sensors | |
| Smoke detector & Notification | |
| | |
| | |