Smart City Bin Indoor TV is a smart IoT solution from Binology for the indoor use with advanced advertising possibilities. This smart bin is specially designed as a brand-new opportunity for the efficient indoor waste management, supplied with two 43'' high resolution LED screens and remote content manager at your service! 
Indoor smart dust bin from Binology combines sanitary waste collection and storage with stylish and technologically advanced marketing instruments. "Clean hands" technology with build-in foot pedal in basic setup! Tight closing shutter won't let the unpleasant odours out, while real-time fill-level monitoring and smart notification system help to prevent overfilling. Optimize controlling and operational costs,  keep track on air quality, temperature, pressure and humidity of the environment, collect data and create reports with Smart City Management cloud service and mobile App!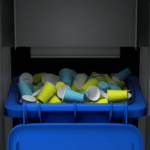 1:8 waste compaction significantly reduces operational costs by optimizing controlling processes, saving staff time and resources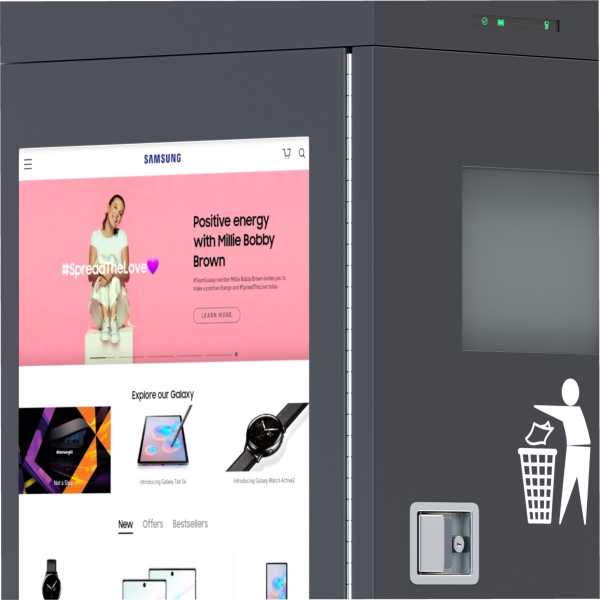 Two 43″ Full HD video panels with remote content manager synergize marketing opportunities with practical utility & style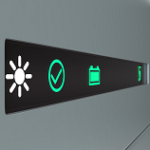 Integrated fulness sensor system allows keeping track on rubbish level with mobile App notification and data analysis  
Tight closing waste receiver shutter and "clean hands" feature, stand for high sanitary conditions and rubbish odour conservation
SMART CITY BIN 120 INDOOR TV
Indoor fill-level rubbish bin & controlling software
Binology introduces indoor waste compacting bin with fullness detection, operating on 230V AC power supply. It is an innovative solution for efficient indoor waste management, combined with powerful marketing and advertising tools, synergizing practical use, cost saving and high sanitary standards.
Binology Indoor TV solution perfectly fits such facilities as:
Transport hubs: airports, marines, railway and metro stations.
Business and exhibition centres, museums.
Shopping malls, market spaces and food courts. 
– High resolution LED displays 
converting our practical and stylish waste container into a new possibility of indoor advertisement. Full HD 43″ displays will attract the attention with high quality sound and video content. For your convenience, we included the remote content management system, which can simplify your advertising activities. 
– Safety and sanitary conditions 
of indoor space were in the focus of our attention, therefore we supplied our intelligent dust bins with hands safety, doors opening, environment and tilt-shock sensors. "Clean hands" feature reduces contact with the bin to pressing down the foot pedal or simply pushing rubbish into receiver window. In case of fire emergency, smoke detector and firefighting algorithm will put the press down to cut the air supply, while sending alarm notifications to staff members. 
– Smart City Management 
software and mobile App will notify the administration and personnel about all tracked parameters, also sends notifications in emergency cases. Using Binology solutions, the staff workers can easily identify the fill-level of the bin, checking the smartphone dashboard or taking a short view on the LED indication panel of the bin. Collected data from integrated sensors simply transforms into customized reports, while complex operational management of waste collection is now centralized and intuitive.
FEATURES:
software free 3-year subscription

foot pedal or easy push drop

two sides wheelie bin removal

LED fill-level & status indication

handy for disabled people

"Clean Hands" waste receiver


safety and firefight features

supports for indoor surface protection
OPTIONS:
any RAL color paint

film cover and branding 

protective coating

extended warranty

Wi-Fi hotspot


foot traffic counter
TECHNICAL SPECIFICATIONS:
wheelie bin 120 L (DIN EN 840)

up to 1:8 (depends on waste type)

Advertising video displays (24/7)

Combined smart ultrasonic

Air temperature, pressure, humidity and quality sensors

Smoke detector & Notification