Global Zero Waste initiatives and challenging environmental issues resulted in national waste separation, reuse & recycle programs. Considering modern day market requests, Binology introduces smart IoT solution for efficient urban waste separate collection – Smart City Separation Station 3. 
It is a self-sustainable solar paneled urban rubbish separation station, which consists of two and up to ten allied trash containers for manual separation of such valuable recyclables as: paper and cardboard, recyclable plastic, metal, glass etc. The central element of the station is the container for landfill waste, with compaction feature, while satellite containers are non-compacting, but all equipped with own fullness level advanced sensor system. Using Smart City Management software, becomes simple to recognize the amount of each type collected waste.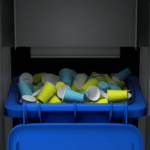 Press for the landfill waste section allows 1:8 trash crushing. Smart sensor system measures fill-level and sends data
The number of satellite containers in the station can be increased up to 9 sections for any separation concept
Binology software designed for separation tasks, identifies and marks each satellite container collected type of waste
Various shapes of available rim masks and apertures  for separate PET, glass, metal, paper etc. collection
SMART CITY SEPARATION STATION 3
Smart waste separation for high foot traffic areas
Smart City Separation Station 3 is a technologically advanced solution from Binology, designed to address modern city waste collection and separation requests. The collection of clean recyclable materials is a key to efficient and profitable reuse and recycle programs initiatives.
– Integrated press feature
allows reducing waste volume by up to 8 times for the landfill waste container. The achieved experience has shown, that several recyclable waste types compaction, such as PET bottles, paper, glass and organics might be inefficient because of various factors and further recycling needs. 
– Clean recyclable materials
as the result of Smart City Separation Station implementation helps to collect and store sorted waste to essentially reduce the manual work on waste sorting facilities. Due to the simple manual sorting of the rubbish, generated from intensive pedestrian traffic, the accumulated recyclable materials are clean and won't require additional washing and high amount of cleaning chemicals. 
– Online monitoring
as a key feature of Smart City Management Cloud App allows a real-time data collection just as for all installed smart bins and stations, so for each satellite container. Fill-level data for each satellite container of Separation Station is separately collected indicated by color on the dashboard. The task management feature allows considering types of the collected waste for smart routing.
– Customization and branding
are the important element of separation policies implementation and sustainable lifestyle promoting. Binology offers a variety of the available rim masks and apertures, also attractive advertising possibilities form a simple branding with informational notes, to side poster frames and film wrapping.
FEATURES:
software free 3-year subscription

foot pedal or easy push drop

custom rim masks for separation

vandal and weather resistant

two sides wheelie bin removal

LED fill-level & status indication

handy for disabled people

"Clean Hands" waste receiver


safety and firefight features

separate fill-level and waste type tracking for each container
OPTIONS:
any RAL color paint

film cover and branding

side posters box, also backlight

protective coating

built-in ashtray

built-in pet waste bag dispenser

hybrid power supply

230V 50Hz power supply

extended warranty

up to 10 containers extension
TECHNICAL SPECIFICATIONS:
| | |
| --- | --- |
| | |
| | |
| | |
| | |
| | |
| | |
| | wheelie bin 120 L (DIN EN 840) |
| | up to 1:8 (depends on waste type) |
| | |
| | |
| | |
| | |
| | |
| | Combined smart ultrasonic |
| | |
| Air temperature, pressure, humidity and quality sensors | |
| Smoke detector & Notification | |
| | |
| | |