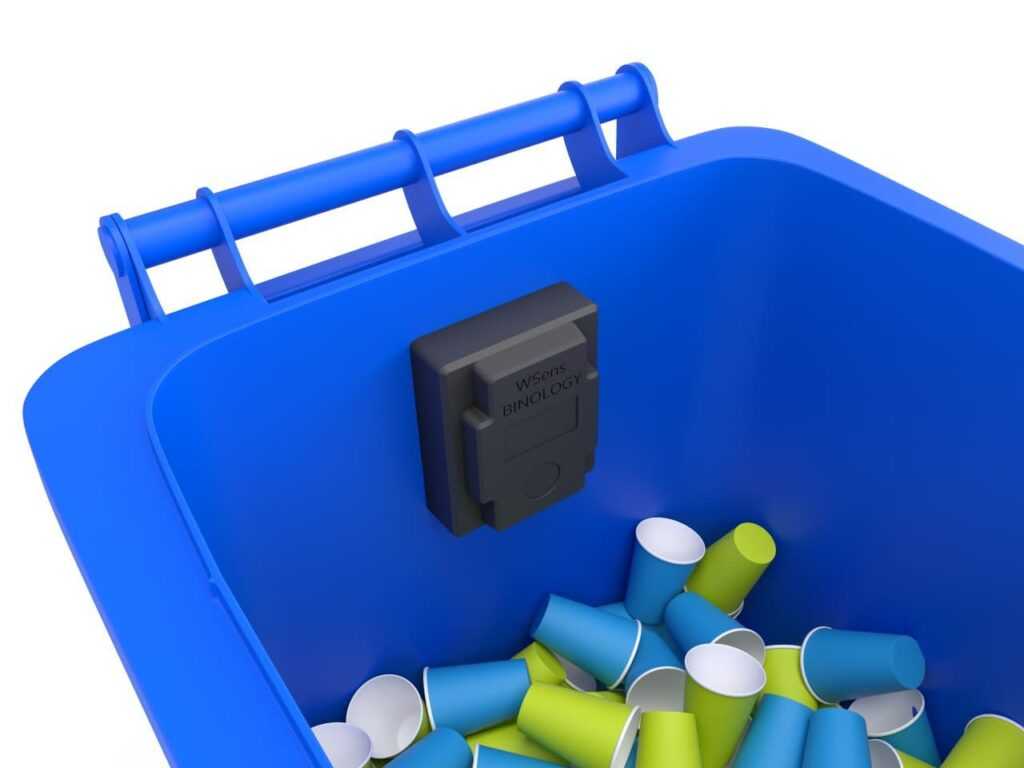 Structurally, the sensor is reliably protected from damage and can be installed at different angles. In particular, for underground and semi-underground containers with a volume of 3 to 5 m3 or more, where special removal equipment is used. In the bodies of trucks and tanks, with a volume of 9 to 23 m3, due to the quick installation and unpretentiousness of the sensor to the external environment. In various types of freight railroad cars, open-top wagons, tanks, dump cars and hoppers of different sizes. In silos of various designs for the storage of bulk materials, including small fractions, with a volume of 4 to 24 m3.
Binology introduces Smart City WSens – autonomous fill-in sensor, which is used to measure the fill level of MSW, bulk materials and liquids. 
The sensor can be used:
 In utility tanks

waste (MSW) from 0.08 to 0.7 m3,

Containers for MSW with a volume of 1.1 – 1.3 m3,

Special containers with a volume of 2.5 – 5 m3.

In containers for bulky waste from 8 to 15 m3 and more.
The Smart City WSens offers a market-unique set of functions for measuring the accumulation of municipal solid waste, bulk materials, and liquids. Configurable data transmission frequency, ease of installation, a protected case, and a sensor battery life of up to 5 years will enable digitalization and analytics to be implemented and reduce personnel and facility maintenance costs.
Economy and efficiency with the WSens sensor
Binology's Smart City WSens radar based sensors are revolutionizing waste management. Both waste generating companies and waste collection companies face the problem of lack of monitoring and analytics, high personnel costs to control the accumulation and management of waste disposal.
The use of autonomous filling sensors Smart City WSens allows you to exclude unnecessary trips of special equipment with high costs of time and fuel, build an optimal route, taking into account the traffic situation and the level of filling of containers and tanks, collect statistics, and control the frequency of removal. This saves up to 70% on waste management costs.
 Synergy of Smart City WSens with Smart City Management software
The operator monitors the filling level of containers on the application desktop, selects those filled above the specified percentage and creates a route sheet for removal; 

the driver receives a route sheet in the Binology application on a mobile device or tablet with navigation and an optimal route taking into account road traffic;

As the containers are emptied, the driver marks them in the application and leaves notes if required;

the operator sees the marked boxes and notes, has access to historical statistics and data that can be analyzed and reported;
level measurement of solid waste, bulk materials and liquids. Integration into existing systems is achieved through the use of various communication standards for IoT devices – depending on the modification, the sensors operate in GSM 2G, LoRaWan and NB-IoT networks.
 * The battery life depends on the frequency of sending data, by default – 2 times a day.
Scope of delivery: level sensor, mounting kit, operating instructions, passport, installation instructions
SMART CITY WSENS SENSOR SPECIFICATIONS:
10 years (NB-IoT), 5 years (GSM 2G/3G),

Operating temperature range:

waste containers, undeground containers, bulk containers, rail freight wagons, elevators, liquid waste tanks

Types of measured materials

Liquids (acids, toxic, oil, water, bio, etc.); Granular (fine bulk, grain, sand, cement, concrete, polymers, etc.); Solid (waste, recycles, textile, etc.).
Advantages of the Smart City WSens:
Mounting to the lid or the wall of the container.

Anti-vandal mounting, protection against removal.

Configurable waste type for each device.

Configurable data transmission rate.

Protected against dirt, dust, moisture, and damage.

Work in high and low temperatures.

Measurement of the percentage level of filling MSW, bulk materials and liquids.

System for determining the fact of emptying.

Quality guarantee from the manufacturer for 1 year.
Smart City WSens allows you to reduce:
the frequency of waste removal and trips up to 60%;

CO2 emissions and fuel costs up to 70%, thanks to dynamic routes.

expenses for control and maintenance of garbage containers and bins up to 65%;

total costs for waste management up to 70%

unsanitary conditions, preventing the formation of local in places of MSW accumulation
Smart City Management:
Waste management software

Map interface with geolocation, displaying devices according to the selected criterion. Color and numerical indication of fill level, device parameters on the map.

Assigning to each sensor its own type of collected waste or materials.

Flexible collection routes based on capacity and road traffic.

A unique system for filtering the collected data and forming

Sensor works up
to 10 years

Easy installation
on bin cover or wall
Anti-vandal body
and mounting

Monitors solids & liquids
GPS
location tracking
Percentage of padding data
What You Get with the WSENS Fill-Level Sensor
Introducing the Fill-Level Radar Sensor for Waste: Revolutionize Your Waste Management Operations
Enhance your waste management processes with the cutting-edge Fill-Level Radar Sensor for Waste. This advanced sensor technology empowers you to efficiently monitor and manage waste containers' fill-levels in real-time, ensuring optimal collection schedules and resource allocation.
With the Fill-Level Radar Sensor, you can bid farewell to inefficient and costly collection routes. Say hello to data-driven decision-making as the sensor provides accurate and reliable information about waste container fill-levels. By precisely tracking waste levels, you can optimize collection frequencies, minimize unnecessary pickups, and reduce operational expenses.
Our Fill-Level Radar Sensor is designed for seamless integration into various waste container types, enabling hassle-free implementation across your waste management infrastructure. Its robust construction ensures durability and long-term reliability, even in demanding environments.
Gain a competitive edge in waste management by harnessing the power of the Fill-Level Radar Sensor. Unlock operational efficiency, reduce carbon footprint, and improve sustainability in your waste collection processes.
Invest in the Fill-Level Radar Sensor for Waste today and experience the future of intelligent waste management. Maximize efficiency, streamline operations, and take control of your waste management with this state-of-the-art solution.
Contact us now to learn more about the Fill-Level Radar Sensor and how it can revolutionize your waste management operations. Stay ahead of the curve and embrace the transformative potential of this cutting-edge technology.
mounting options (the simplest example)